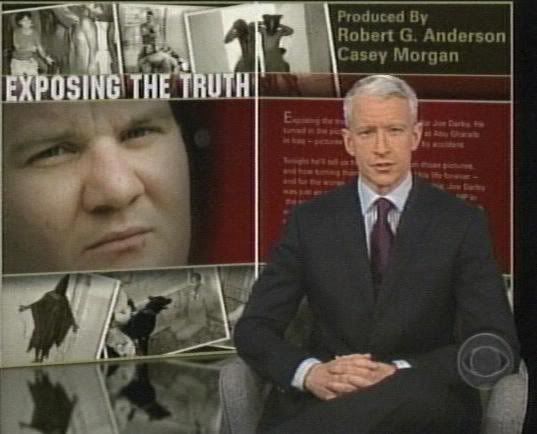 Tonight was Anderson's first appearance on 60 minutes. He lead the show with his story on Joe Darby, the Abu Ghraib whistleblower. I really saw his style adapt more to the 60 minutes format with the way he conducted his interviews and the tone and pace of the story. For his first time out it seemed like he did a great job!

Watching the story was upsetting to me because I kept thinking how ignorant and careless some people can be. In my mind, what is supposed to make us better than the enemy is the way we treat people. We follow the Geneva convention even when they don't. We allow people their rights when they would not extent the same to us. That, to me, is what American is about and has always been about. The military is out there on the front lines protecting our rights and freedoms and I hope that they would respect others rights and freedoms... they should be the first to do so, in my opinion. But when other people are treated less than human by the people that are fighting so hard for us it is sickening. What does it say about some of the people in the country that they would threaten or look down upon someone like Joe Darby? This man did what was right and that is the mark of a REAL American, not the "soldiers" that treated the enemy in the way they did at Abu Ghraib. That showed no respect for the prisoners or for themselves as captors. That's not to say that some of the prisoners weren't horrible or didn't want to harm us but I still think, we as Americans, should act with dignity and hold our heads up high. Unfortunately, these soldiers did not.

I respect people in the military because I think they basically have a thankless job. They put their lives on the line for the rest of us and that is more than most would do. It's sad that a few people had to make the rest of the military look so bad. Someone like Joe Darby should be thanked for what he did. If he hadn't who knows what could have happened. Anyone capable of doing what was done to the prisoners is capable of doing worse and to who next?

I'm looking forward to more great stories from Anderson on 60 minutes. Nice to see a story from him that made us all think and hopefully react to! For more info about the story and some clips go to CBS. Here are a few more caps of the show, Thanks to Phebe.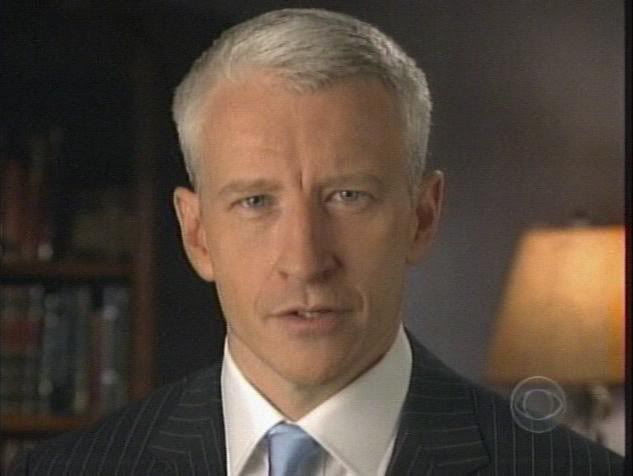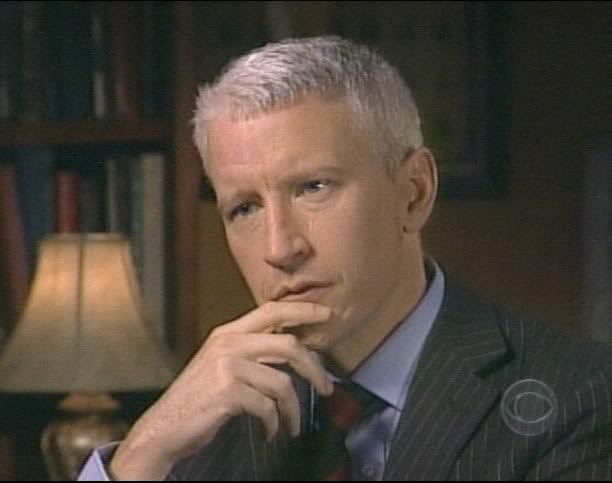 Now on to a lighter subject. It's finally time to VOTE for your favorite video submissions! The winner gets an all expense paid trip to Siberia and a lovely 7 night stay at the deluxe Siberian Arctic Campground and Swimming Hole! Wooo! (Tent NOT included!) ;o)

Here are our nominees again... (Click to be taken to the video)

1) Robin's 'Secret Agent Man'
2) Book Asylum's ' Inside the Tornado'
3) Rachel's 'The Boy from New York City'
4) Robin's 'Comfortably Numb'
5) Palyaphoto 'When I See You Smile'
6) Book Asylum's 'Smile For Me One More Time'